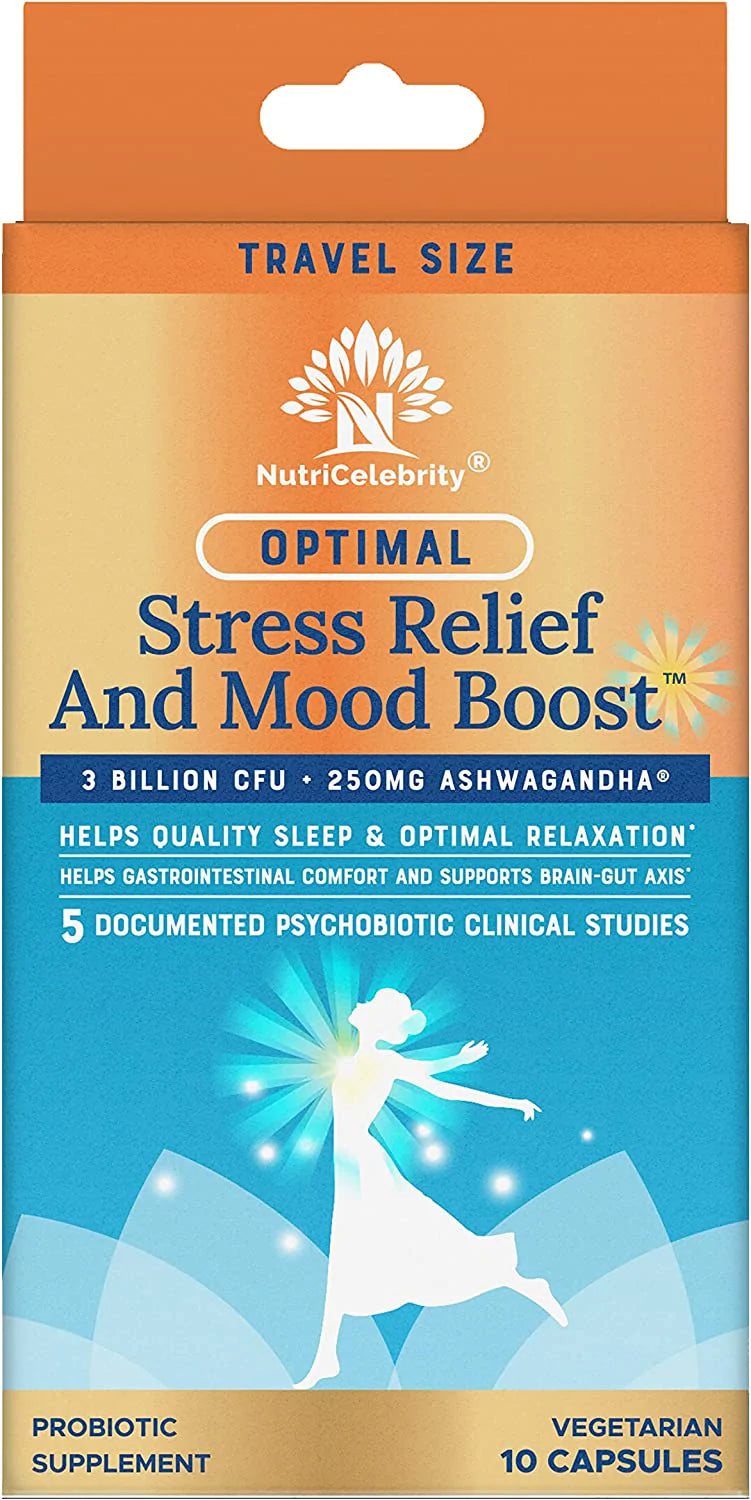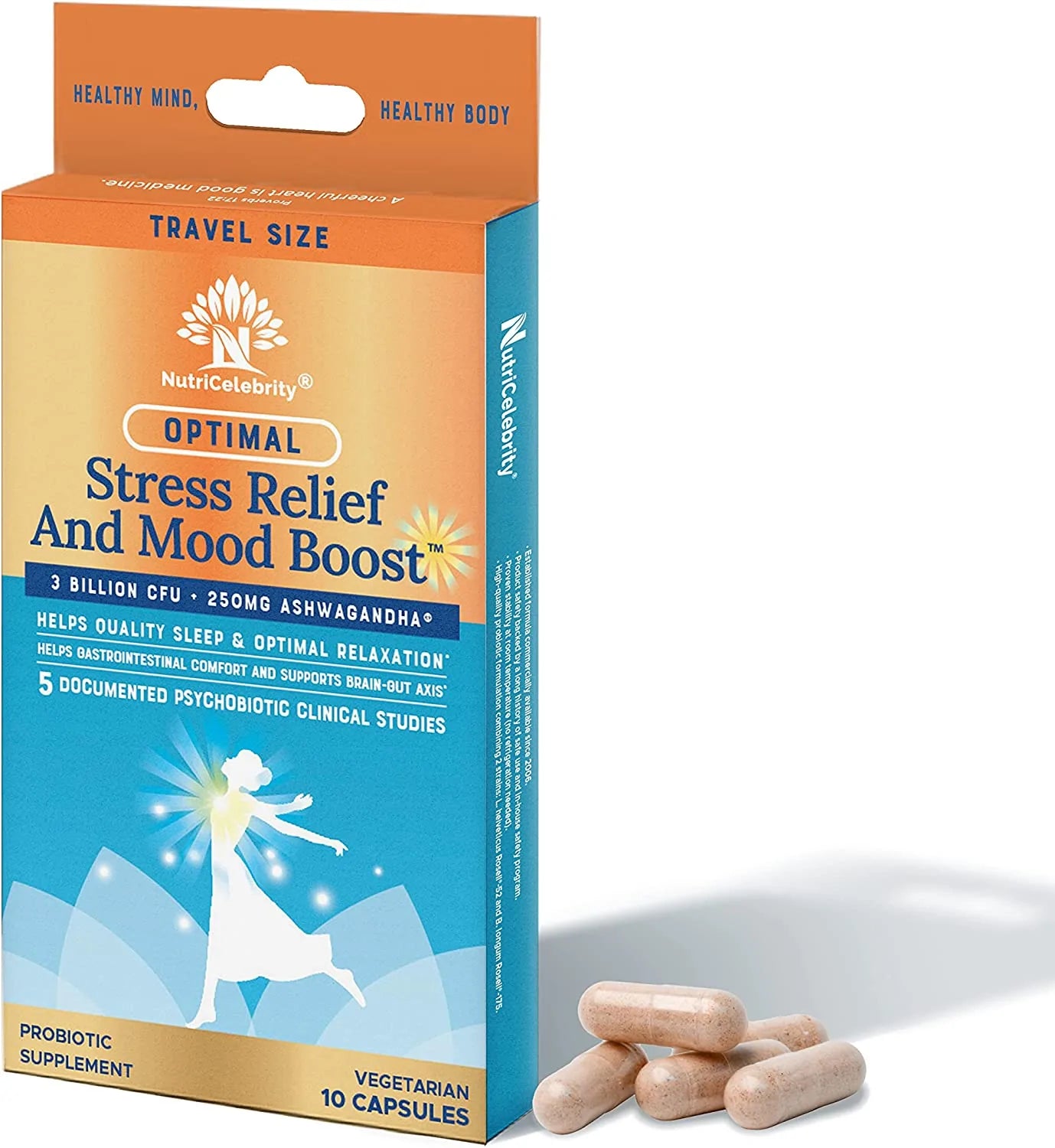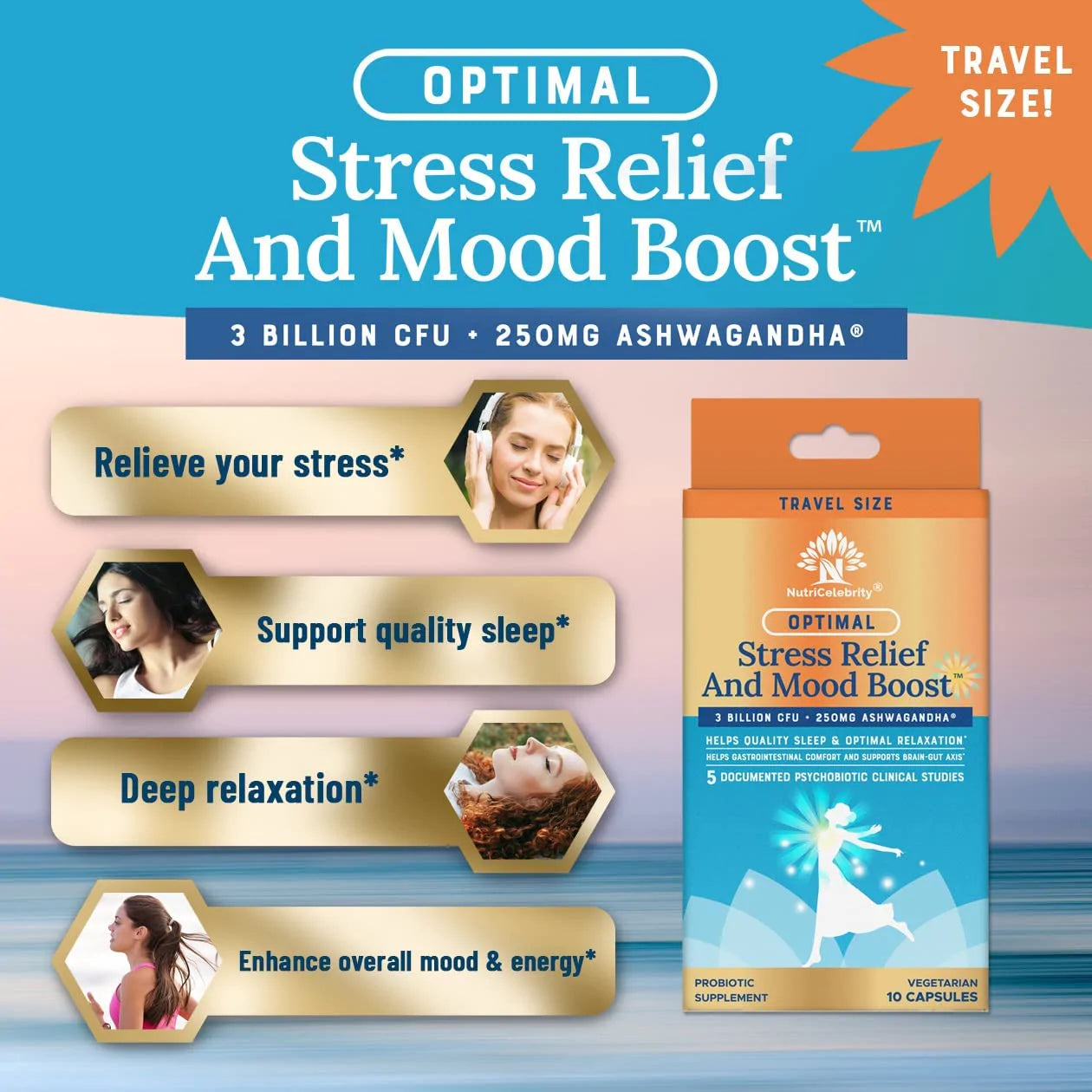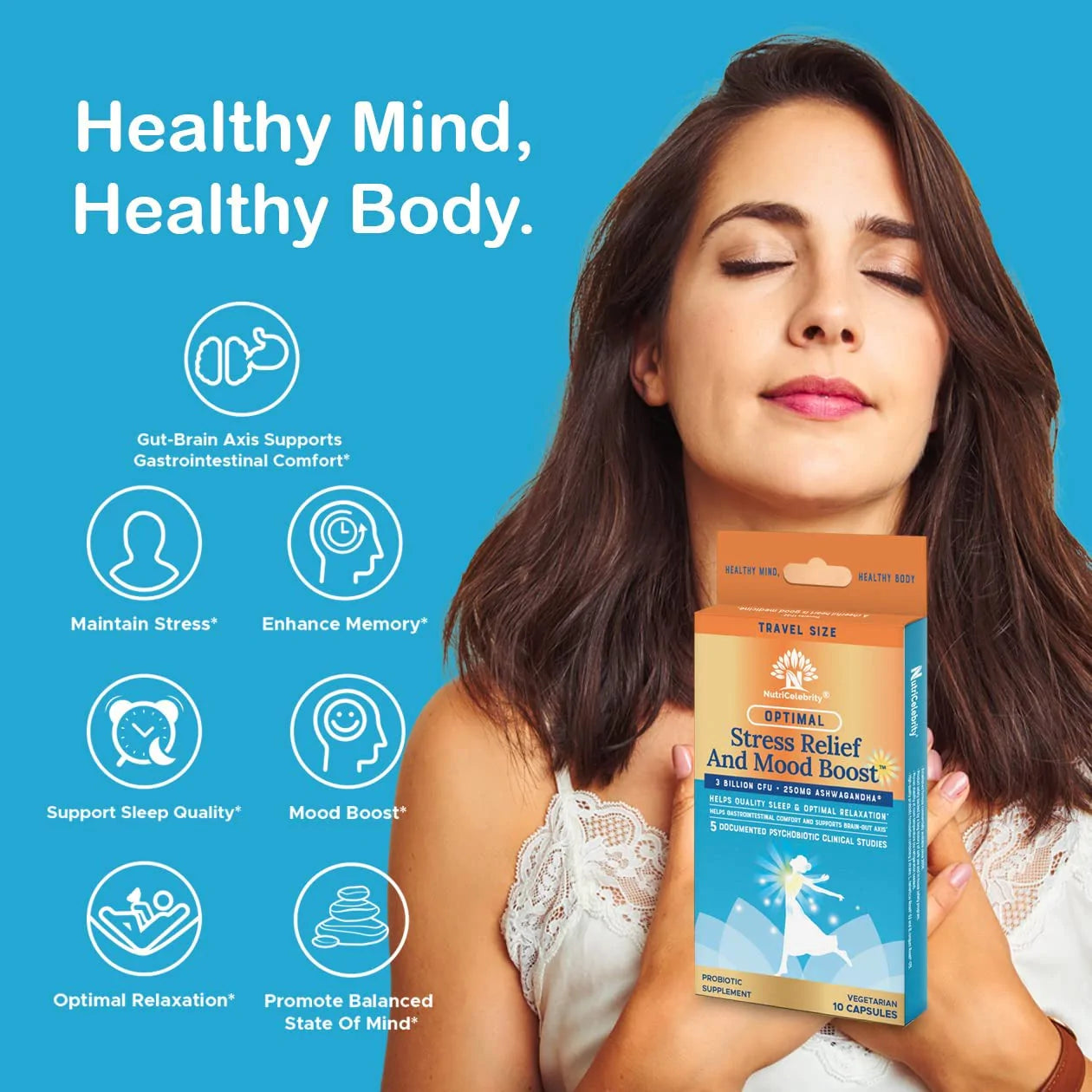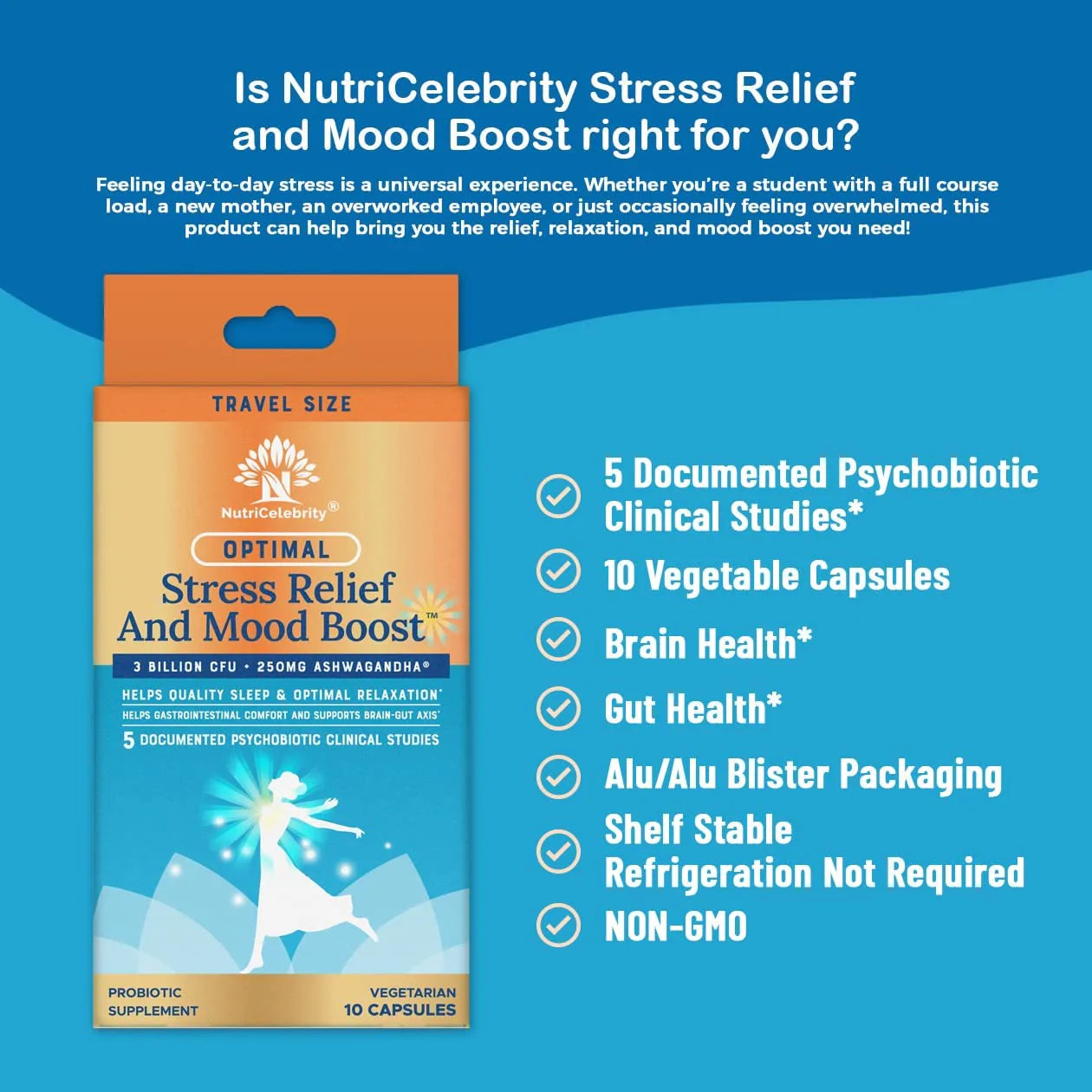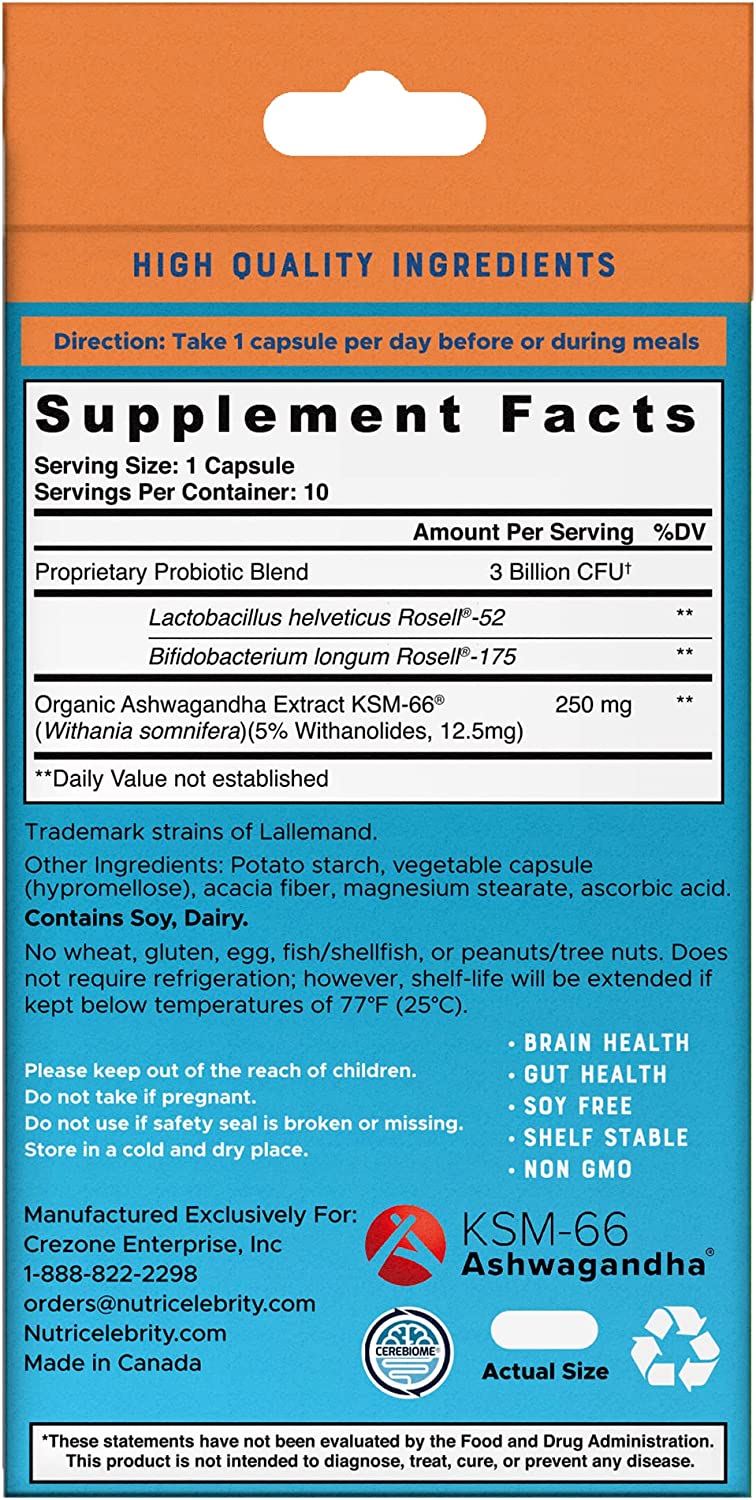 **Please Only Add 1 to Cart** NutriCelebrity Optimal Stress Relief and Mood Boost Supplement Travel Size - Tryazon Hosts
Regular price
Sale price
$0.00 USD
Unit price
per
Sale
Sold out
Share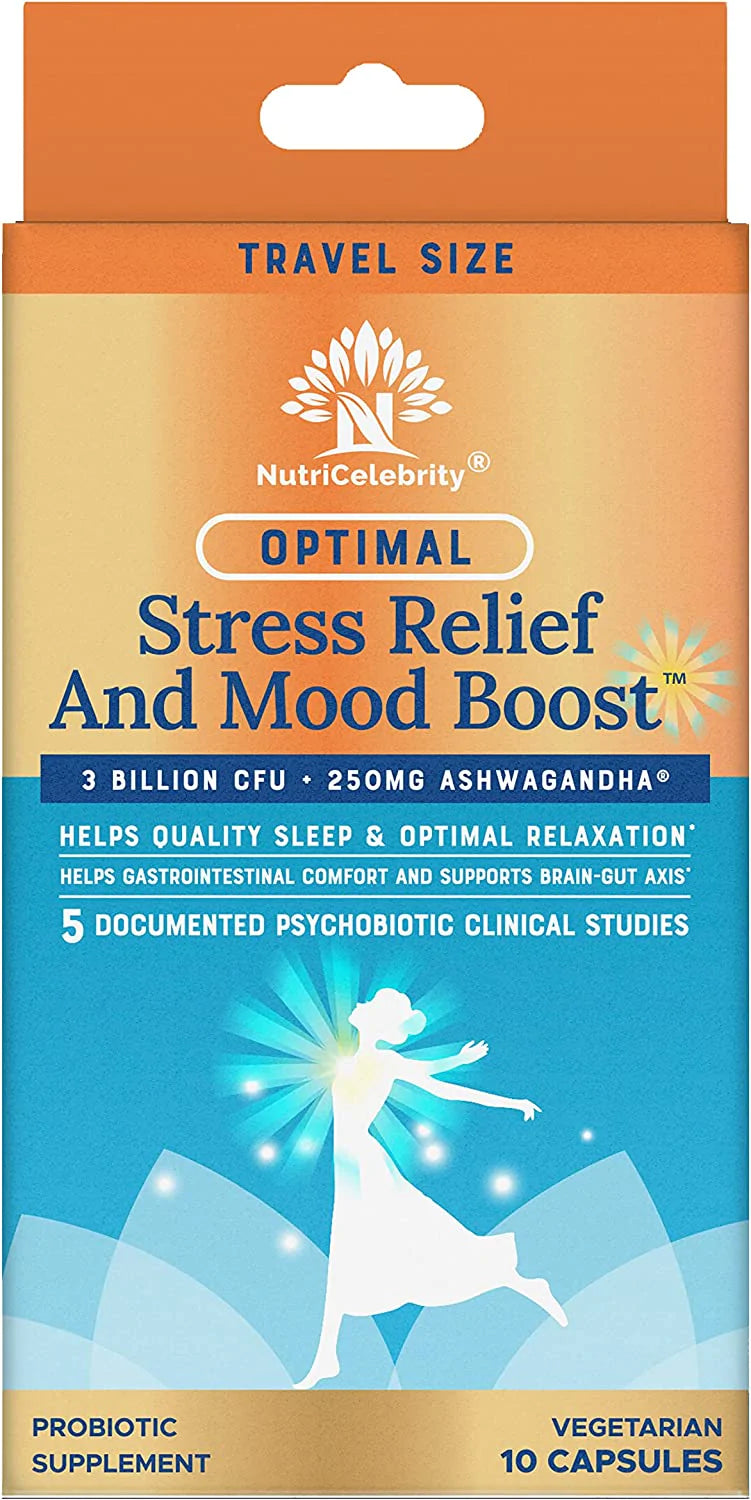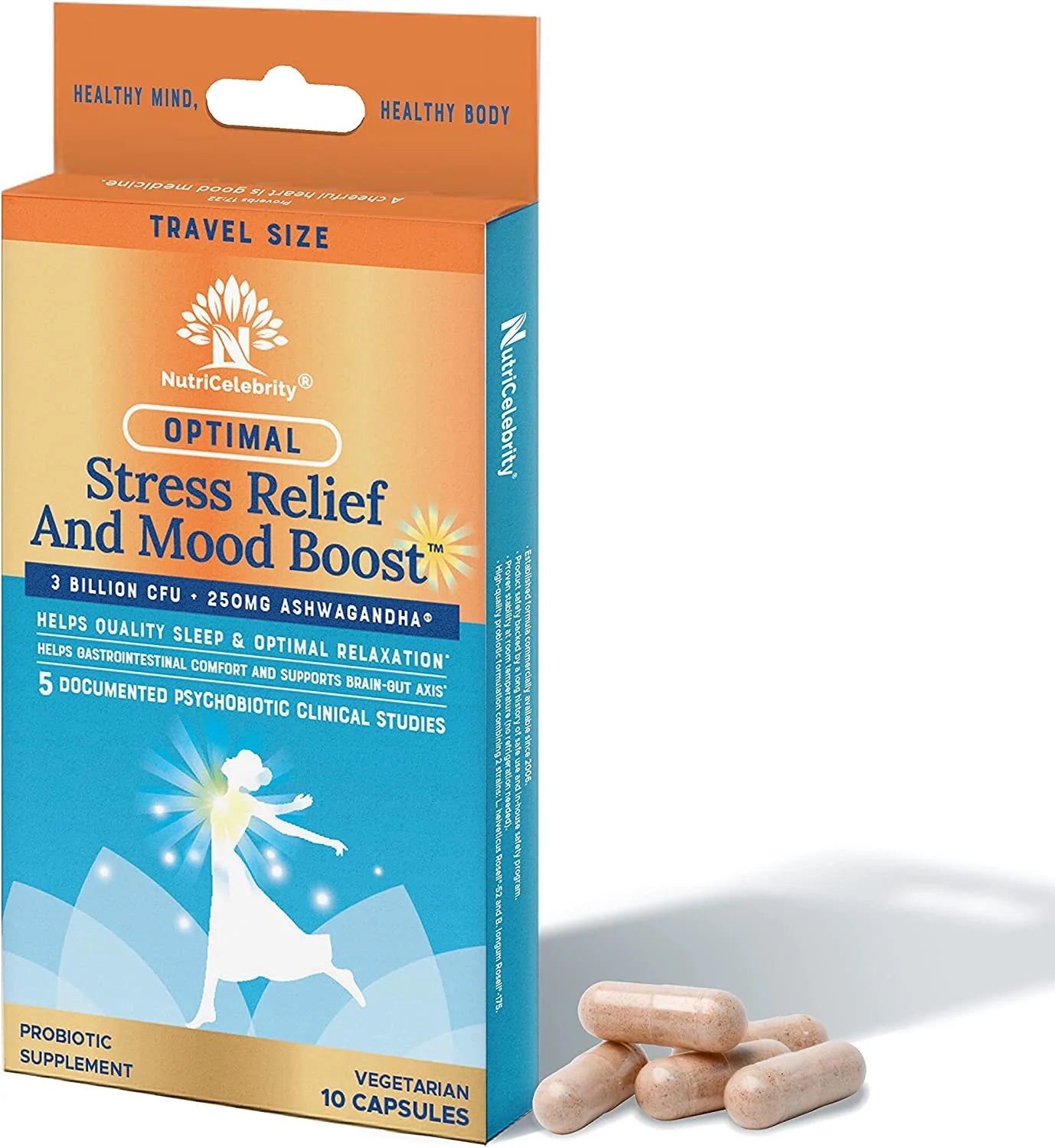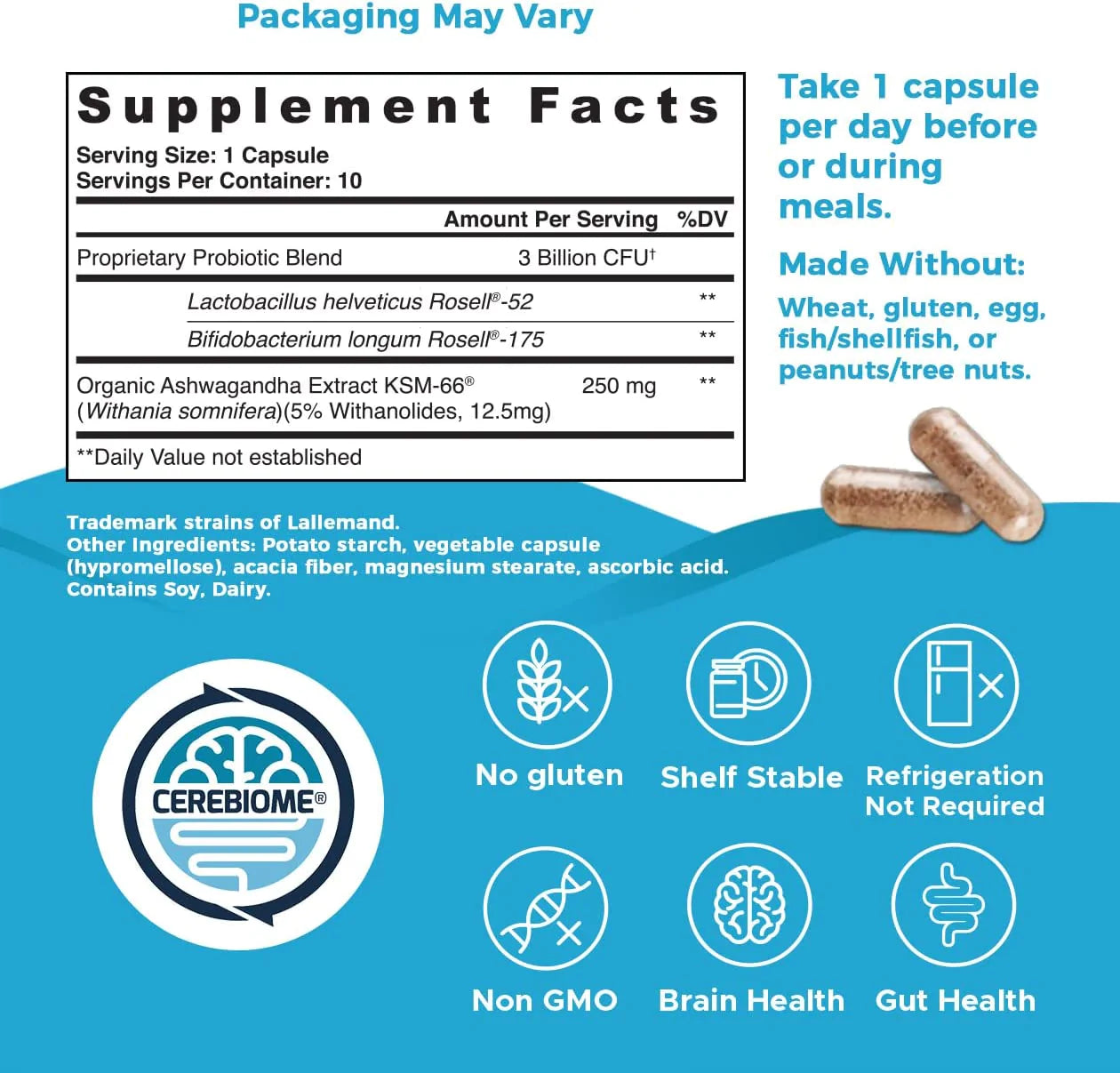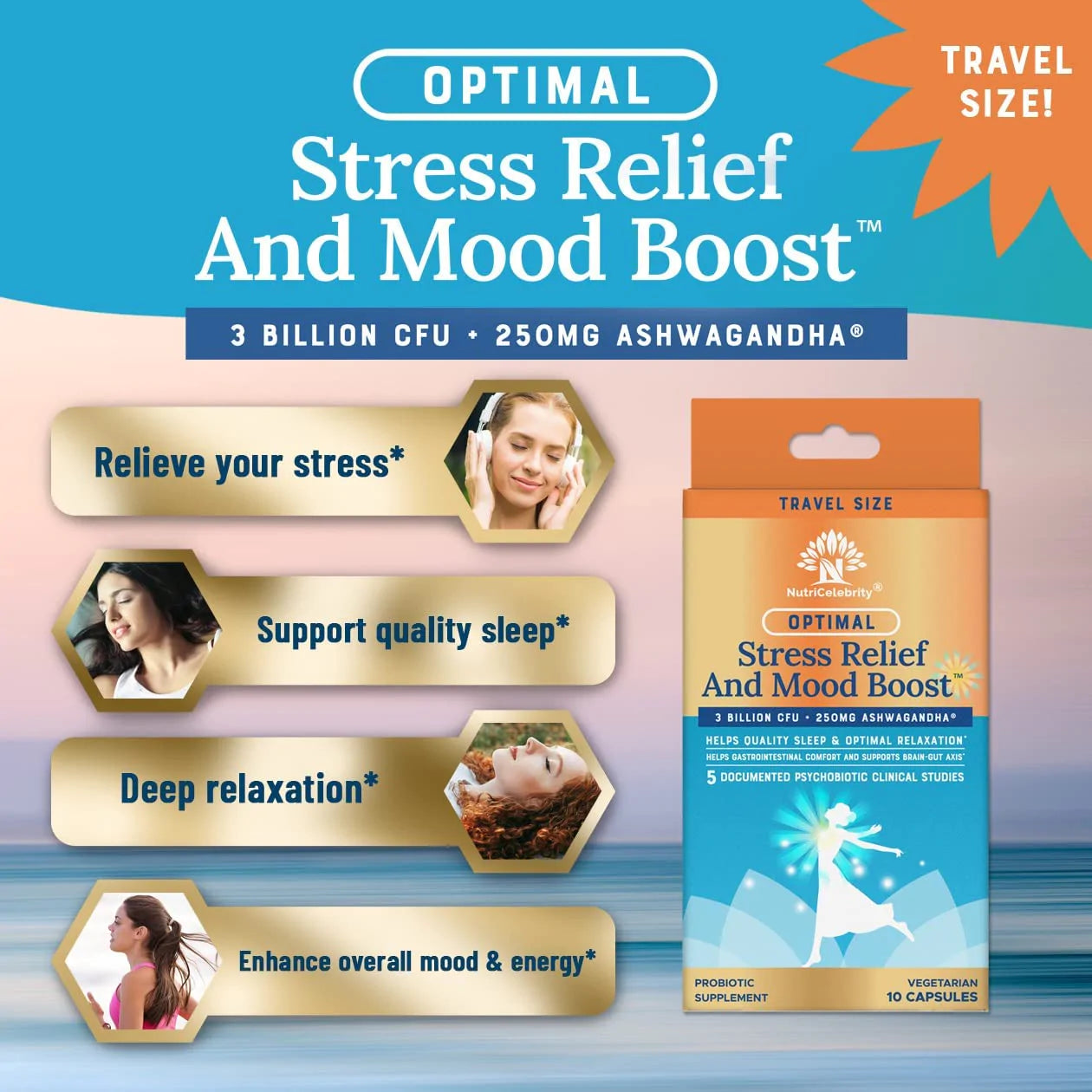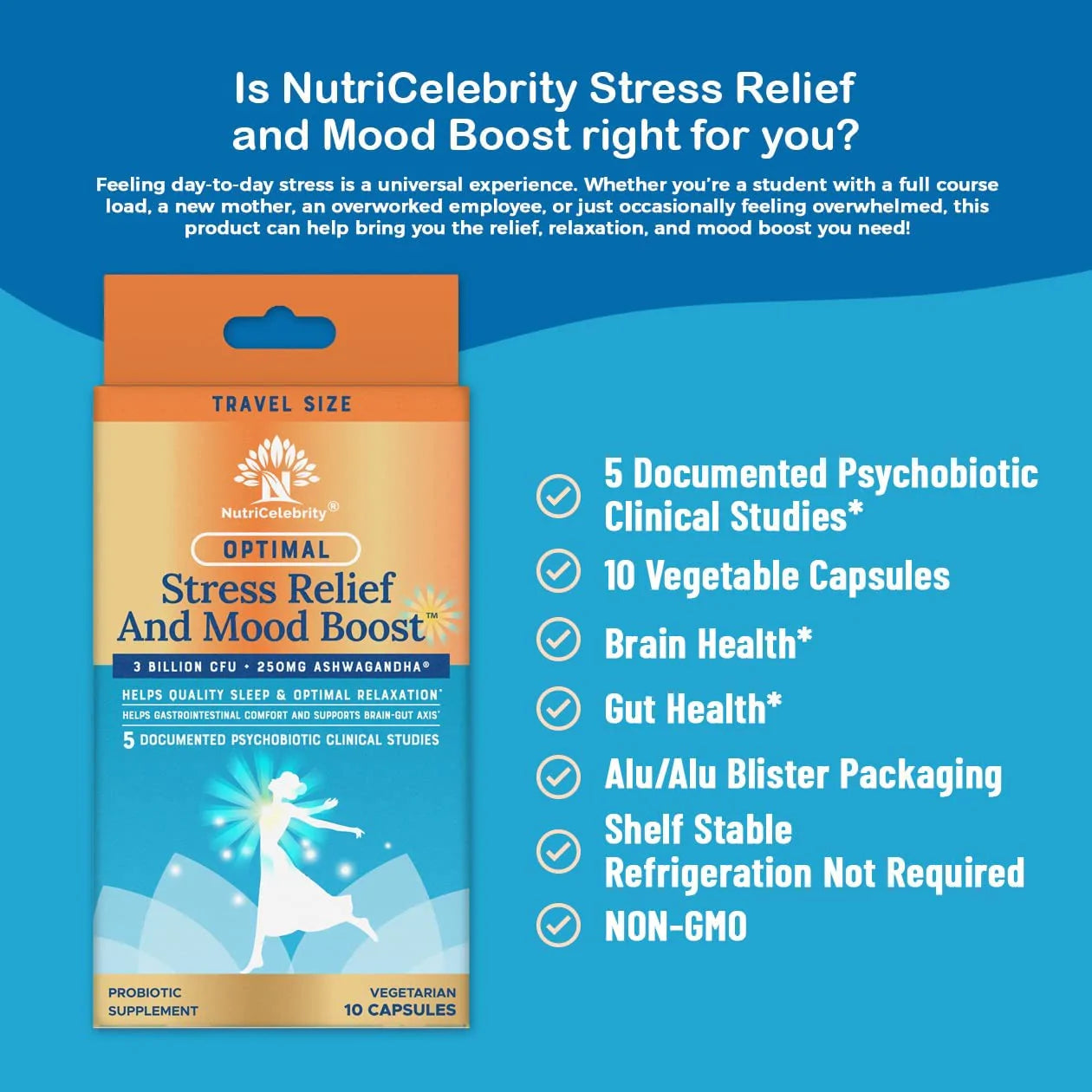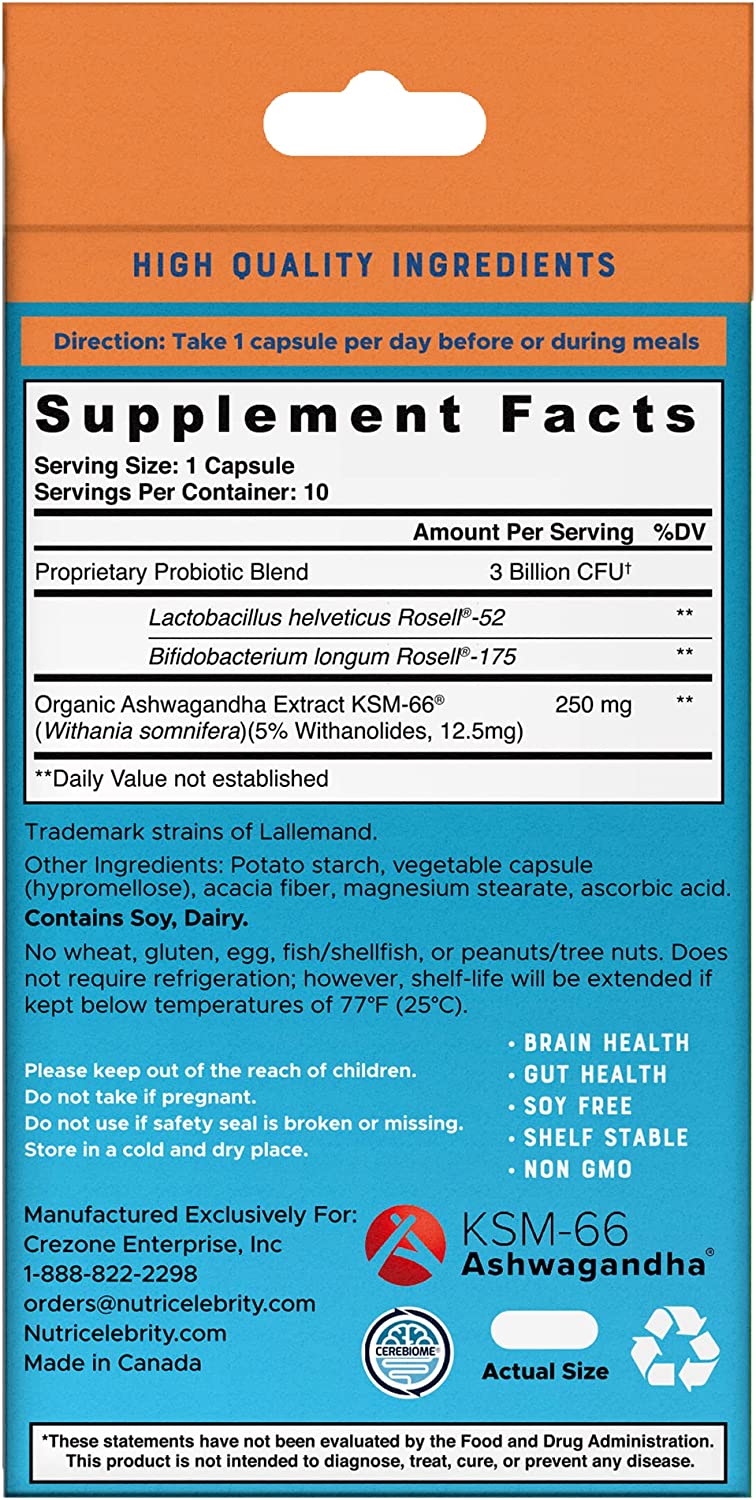 Description
Benefits
Suggested Use
Supplement Facts
About this item

***Please Only Add 1 to Cart***
STRESS RELIEF & MOOD BOOST - Promote a more balanced state of mind for better mental resilience. Made with high quality probiotic formulation combining 2 strains to offer natural support to help enhance mood, relax in times of occasional stress and improve sleep. Paired with KSM-66 Ashwagandha to offer healthy responses to manage daily stress, reduce anxiety and cortisol levels.*

HIGH QUALITY INGREDIENTS - Made with Cerebiome and Ashwagandha to support quality rest, optimal relaxation, and help relieve stress. Both ingredients work together to help enhance mood, support gastrointestinal comfort with live probiotic bacteria by acting on the Gut-Brain Axis to help manage stress-related food cravings, and respond to occasional stressors.*

IS OPTIMAL STRESS RELIEF RIGHT FOR YOU? - Feeling day-to-day stress and anxiety is a universal experience. Need help promoting your resilience to mental and physical fatigue related to stress?Whether you're a student with a full course load, a new mother, an overworked employee, or just occasionally feeling overwhelmed, this product can help bring you the relief, relaxation, and mood boost you need!*

SUPPORTS BRAIN-GUT AXIS - The gut and the brain communicate daily through 3 different pathways (neural, neuroendocrine, and immune). This bi-directional communication intensifies in times of stress and can lead to gut discomfort. Cerebiome supports brain functions by supporting healthy cortisol (stress hormone) levels. This helps regulate your gut in stressful situations.*

TRUST - Our product is Non-GMO and does not require refrigeration and is shelf stable. Made with no gluten, wheat, egg, fish/shellfish, or peanuts/tree nuts. Optimal stress is a probiotic supplement that comes with 60 vegetable capsules. Combining Cerebiome 3 Billion CFU and 250mg Ashwagandha to support a calming mood, mental clarity, relaxation, and help relieve stress and anxiousness.*
Additional Info
Exclusively made for NutriCelebrity
Fantastic
Helps me in stressful situations!
Happily ever after
I received Optimal Stress Relief and Mood Boost
Supplements for my honest opinion as a Tryazon Host. I really enjoy trying these supplements. They really did change my mood and give me energy. I do not feel sick after taking it and was relieved from the constant stress. I have been feeling this is a wonderful product and I would definitely recommend.
Seems to work!
I am enjoying a much more relaxing evening lately and happy with the results from the Stress Relief
Great supplements!
These are great and really do seem to help. We have been using them for a few weeks, and it has helped balance my menopausal side effects.
Stress relief
I like it's natural ans easy to take. I haven't noticed much difference it can take months for them to work a sample was not enough to review. Thanks
Choosing a selection results in a full page refresh.